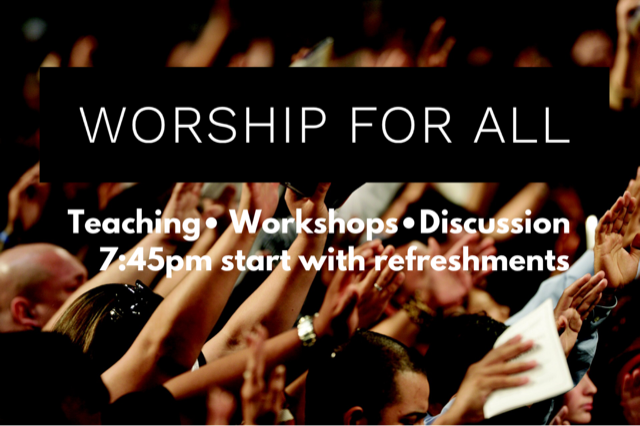 Tuesdays : 3rd Sept, 1st Oct, 5th Nov & 3rd Dec -
7.45pm
For all those with a heart to worship and a desire to develop their skills, gifts, and experience further. Those with a worshipping heart whether novice or expert, musician, singer, dancer or none. You're invited!
For more info, speak with a member of the Worship Core Team: Graham / Cat / Chris / Lindsey or Chrissy.
Sign up by emailing chrissy@southendchristianfellowship.org.uk
Choose between the following options for this series:
- Singing as a Choir. Come and have fun as we enjoy the opportunity to sing together in unison. All are welcome no matter your level of experience!
- A 'Classical' expression of worship. An opportunity for those who are classically trained or play more traditional instruments to worship together.
Both of these will spend some time practicing together for our Christmas Celebration, but it's open to all whether you are available for that or not!
To God, for God, about God
relationship
Worshipping God is an important part of Southend Christian Fellowship. We believe God created the human race with the purpose that we would live in relationship with Him. The relationship was intended to be defined by mutual love.
Worship defined
Worship can be defined as the expression and outworking of our love for God. It is more than just singing songs! When we stop worshipping God, we don't worship nothing; we worship anything. It is not whether we will worship, but who or what we will worship. That may be money, sex, power, celebrity, each other……..to name a few.
A two-way love song
Worship is a two-way love song. As we sing, He rejoices over us "with singing" (Zeph 3:17). Throughout the Bible we see this inseparable link between worship and the presence of God. The link is this: Worship is a response to God's manifest presence; it also ushers us into His manifest presence. There are numerous examples of this in the Bible (2 Chron 5:12-14, 2 Chron 20:15,17, Acts 16:25,26). But worship is also about acts of devotion. Our worship is to Him, for Him, and about Him.
A lifestyle
God's command to love Him still stands. Worship for us is to be a lifestyle (Rom 12:1) We are told that in response to the wonder and mercy of God, we are to give Him all that we are. We are to worship with all that we do. Not to earn love from God, but because of God's love for us.
Acts of devotion
What do these acts of devotion look like? In the Bible it involves singing, clapping, dancing, lifting the head, lifting the hands, kneeling, falling face down. It is a physical activity. These acts of devotion are linked to God's presence. They are a crying out and a longing for His presence, they are a response to His presence, and they usher in His presence.